How to keep your Apple Watch leather band clean
Apple Watch is one of the smartest device on the market. An elegant and charming leather watch band represents the perfect marriage between technology and tradition. Such a fact is more evident with leather watch bands handmade in Italy with the highest knowledge of an ancient tradition.
Leather is a natural product and keeping your leather strap clean will help you to preserve it longer. Moreover it will help to show off your Apple Watch leather band at its best.
Taking care of your leather strap means clean it regularly. Whether you use your Apple Watch during workout sessions or you wear it for a business day remember to remove dust, moist and sweat with some simple tips. Nothing complex but important to guarantee your Apple Watch leather band a longer life.
Three secrets to take care of your Apple Watch leather band
We have been working for years with the highest quality leathers and our craftsmen want to share with you their secrets passed down from generation to generation to take care of your leather straps. But before going to clean your leather band take a look at our guide to remove it from your Apple Watch.
#1 Everyday care is the greatest care
If you want to give your leather band a longer life avoid to wear it in direct sunlight. Another good thing is not to take bath and dip in salt water your favorite Apple Watch leather band. Even water-resistant leather will weaken over time if its exposed to too much water so it's best to remove your watch when swimming or bathing.
As a natural product your leather strap needs to breathe so time to time you should take it off for example when you go sleeping.
#2 Be gentle with your leather band
Unlike rubber or metal straps a leather band has to be treated in a gentle way. So the best way to clean it is to use soft materials.
Moisture can be easily trapped between your skin and your leather band. To remove it wipe your leather strap with a cotton cloth or microfiber jewelry cloth. Another way is to pat down the strap with a damp cloth. Then, put a small dab of mild, moisturizing hand soap on the cloth before scrubbing the watchband on both sides with it.

#3 Smooth leathers
There are leather straps with a smooth grain and compared with the pigmented nature of suede they are quite easy to clean. Smooth leather types can easily cleaned with a wet cloth. The best way is to use leather fat or leather spray to create a protective film on your leather strap. It will also protect your watch band from dirt, moisture and even sun. Those products can be easily applied to leather and then polished with a clean cloth.
Meridioband is always close to you
Manufacturer knows well how to take care of your leather band. We can give you official recommendations to keep safe and fresh your leather straps. For example some products can be safe to use on leathers but they can cause fade. That's why we are close to you to guarantee the best handmade Apple Watch leather bands and to give you the best tips to solve any doubts you have.
Summary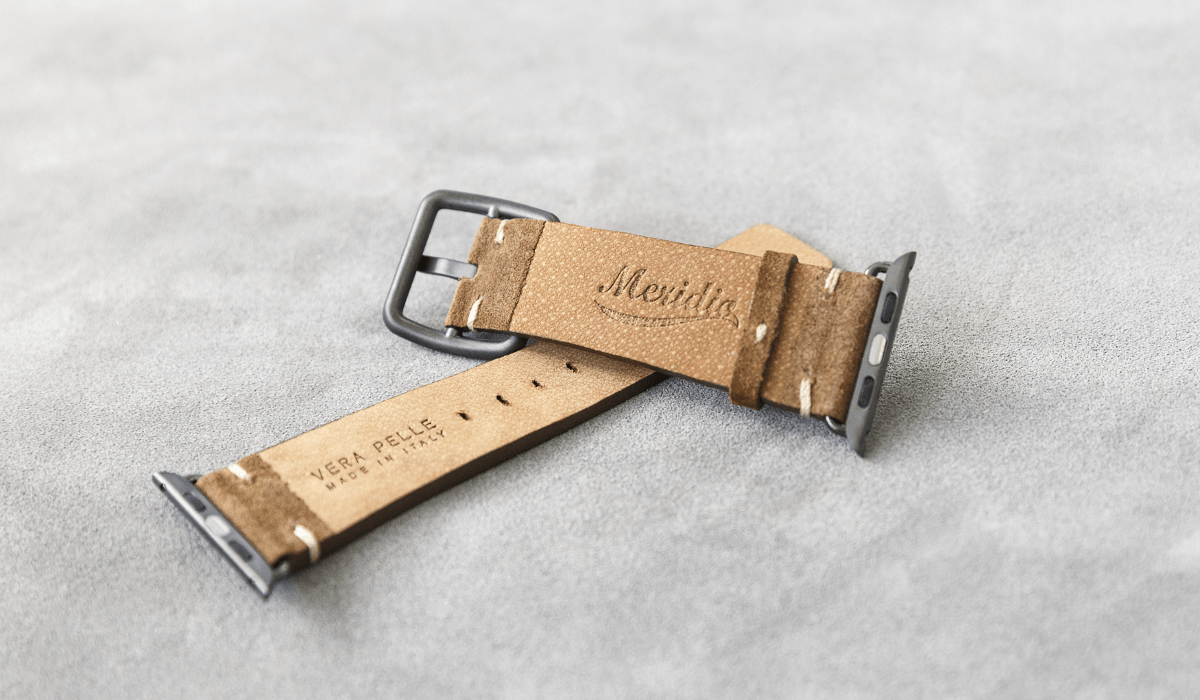 Article Name
Apple Watch band in leather: how to take care of it
Description
Our craftsmen reveal their secrets to take care of your Apple Watch leather bands.
Author